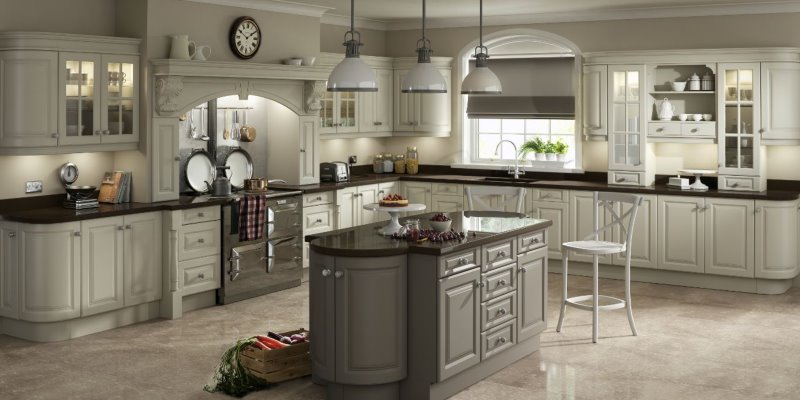 Bespoke Fitted Kitchens
At Antony's Interiors we understand that your kitchen is the hub of the home. It's not just somewhere where Mum or Dad cooks; it's somewhere for the family to spend time together – to relax and eat together. It can also be a work-room, a TV room, or somewhere to entertain friends. Your kitchen gets a lot of use!
That's why our bespoke kitchens do far more than just look great – they are functional, durable, versatile and are designed to suit your lifestyle. Yes of course your new luxury kitchen will be aesthetically pleasing! But it will also stand the test of time.
A custom-made Kitchen as Individual as YOU are

Whether you'd describe your new dream kitchen as "designer" or "shaker style", "traditional" or "contemporary", we offer a selection of styles, colours and materials to suit you – and all hand-crafted to an exact size.
We also understand you may want that designer style but not necessarily at the designer price!
When you choose Antony's Interiors we'll listen to how you envisage – and how you'd use – your new kitchen
We'll advise you on everything from storage solutions to work-surfaces and splashbacks
We'll measure-up and then draw-up a unique design for your bespoke kitchen, with meticulous attention to detail and perfectly balancing the space you have with the style you want – a design to fit YOUR lifestyle
From MFC ("Melamine Faced Chipboard") to MDF to Solid Oak – we use only the finest of materials from reputable suppliers and our recommendations for your kitchen will be "fit for purpose" and with your budget in mind
We'll colour match all your kitchen cabinets, doors, shelves, islands and worktops – and the choice of finish is yours too
Because every job – and every kitchen – is different, we'll draw up a plan of each stage of the project so you understand timescales. Most customers are usually very pleased that the work will take less time than they first anticipated
Need an extra speedy job? Sometimes it's possible, if the customer is happy, to use pre-worked kitchen carcasses; we can discuss this option with you and the decision will be entirely yours
When fitting your kitchen we have the utmost respect for our your property and we'll ensure the minimum of disruption to you, your home and your family life
What if I Have My Own Plans Already?
Not a problem! We can work with your plans.
We also sometimes see plans where the customer would have to compromise on style because the supplier works only to certain sizes.
That's OK – it's a starting point but with Antony's Interiors we can craft your truly bespoke units to any size.
Need to decorate, install an integrated oven or new kitchen floor?
Not a problem either – we'll manage the whole project for you, arranging the various tradesmen you need at the right time and on the right day – this will all be covered in the stage plans!
Want to know more?
When you Contact Us we'll arrange for owner Antony Williams to visit your home at a time to suit you. Antony will bring examples of materials, doors, handles etc. and also brochures from the suppliers we use.
Antony will provide you with a free no-obligation quote and answer any other questions you may have. Antony is an expert in his field and his advice is based on over 15 years in the bespoke kitchens industry.
In the hope you choose Antony's Interiors, then throughout the whole project Antony will be there, hands-on as always and ensuring our high standards are adhered to and your expectations are exceeded. So confident are we in the quality and craftsmanship of our work that we provide you with a 6 Year Guarantee.